Ask yourself this:
Do you have an idea for a business that will make a significant difference in your community?
Are you passionate about creating a product or service that will improve the lives of your customers or clients?
Is your business being impacted by changes in competition and the marketplace that require you to do things differently?
Do you think your organization needs to be more agile to be competitive?
Are you developing a new product or service?
Are you executing strategic plans within your company?
If you answered "yes" to any of these questions, you're in the right place!
This blog has several well-rounded posts that will give you actionable tactics and strategies to implement immediately. The content-rich posts are especially geared toward both owner-managers and entrepreneurial executives.
Whatever your level of business experience, you're aware that the world is changing at an exponential rate. Unfortunately, in stark contrast to the need for agility, the ability of many businesses to thrive in this multi-polar world is largely stunted.
''8 out of 10 entrepreneurial ventures fail'' – Bloomberg
If you want to ensure that your business beats the odds and emerges as a success story, you need  tools that work. Whatever your level of proficiency or size of business, this blog has something for you!
Does this Sound Like You?
Do you:
Want to develop, or improve your business acumen?
Seek some straightforward yet strategic guidance on how to exceed expectations in your role as owner-manager or entrepreneurial leader?
Want practical methodologies that will help you grow your business in order to thrive in the marketplace?
If you answered yes to any of the above questions, you'll find some inspiration on this blog.
I Know How You Feel
I know how it feels to pursue an entrepreneurial opportunity.
For the better part of my career, I worked as an organizational change management consultant, first in Accenture and then in other blue-chip companies. I managed change on technology implementation projects across the length and breadth of West Africa, in multiple industries and geographies. My experiences gave me a holistic view and firm grasp of the change management field, which I used in various ways – from writing a book on change, to speaking at regional change management conferences, to winning change management awards, to being part of the global team that defined the Certified Change Management Practitioner (CCMP) certification.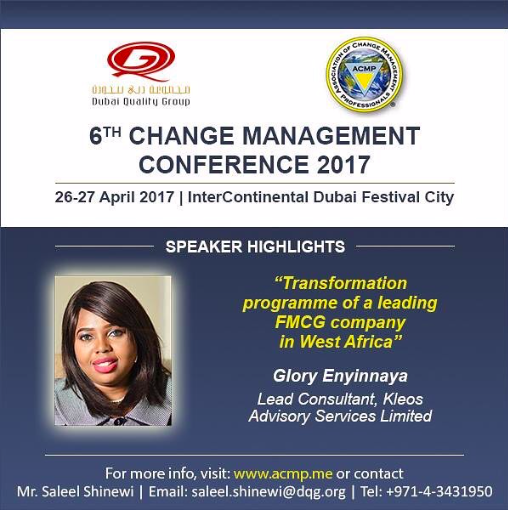 Sometimes, though, Life throws you a curve ball. While studying for an Executive MBA at Lagos Business School, I conceived the idea for Kleos Africa, Africa's first online advisory platform.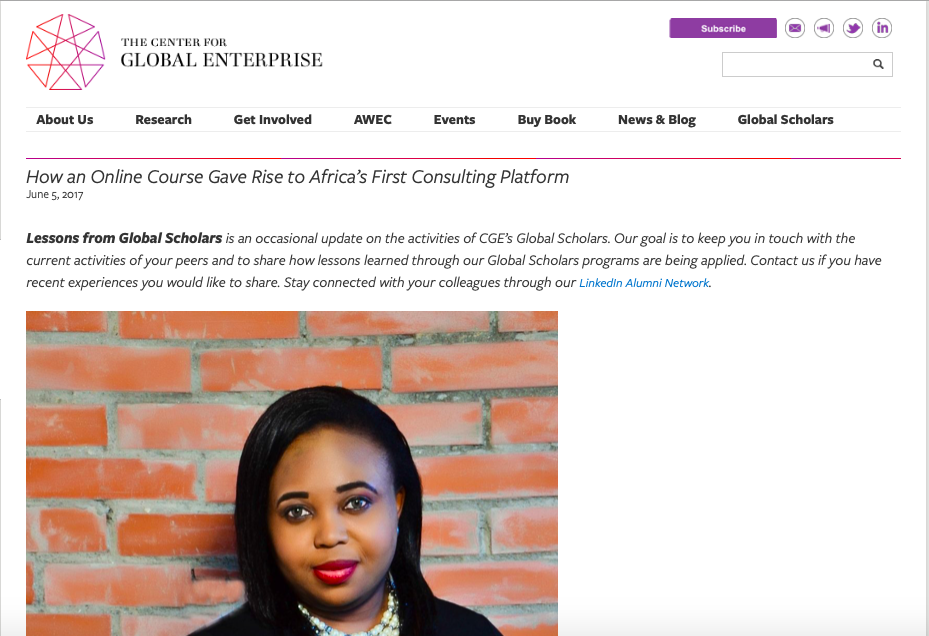 As exhilarating as the idea was at first glance, the field of entrepreneurship turned out to be a maze of hypothesis testing, lean implementation and rapid-fire pivots. Realizing the need for guidance in the brave, new world of entrepreneurship gave me a different perspective on my MBA courses. Rather than see them as theoretical constructs, I began to view my entrepreneurial journey through the lens of business education.
As I grew in my conceptual understanding of business, I began to see the big-picture of the seemingly random tasks I was performing as an entrepreneur. Applying these insights grew my business and Kleos Africa went on to record a series of significant milestones – from being named by the international Association of MBAs (AMBA) as one of the top 50 MBA stories worldwide, to advising over 200 SMEs through our partnership with a regional Nigerian bank, to being honored as one of the top 100 SMEs in Nigeria, to being semi-finalists at the 2017 African Entrepreneurship awards and being invited to pitch to local and international investors.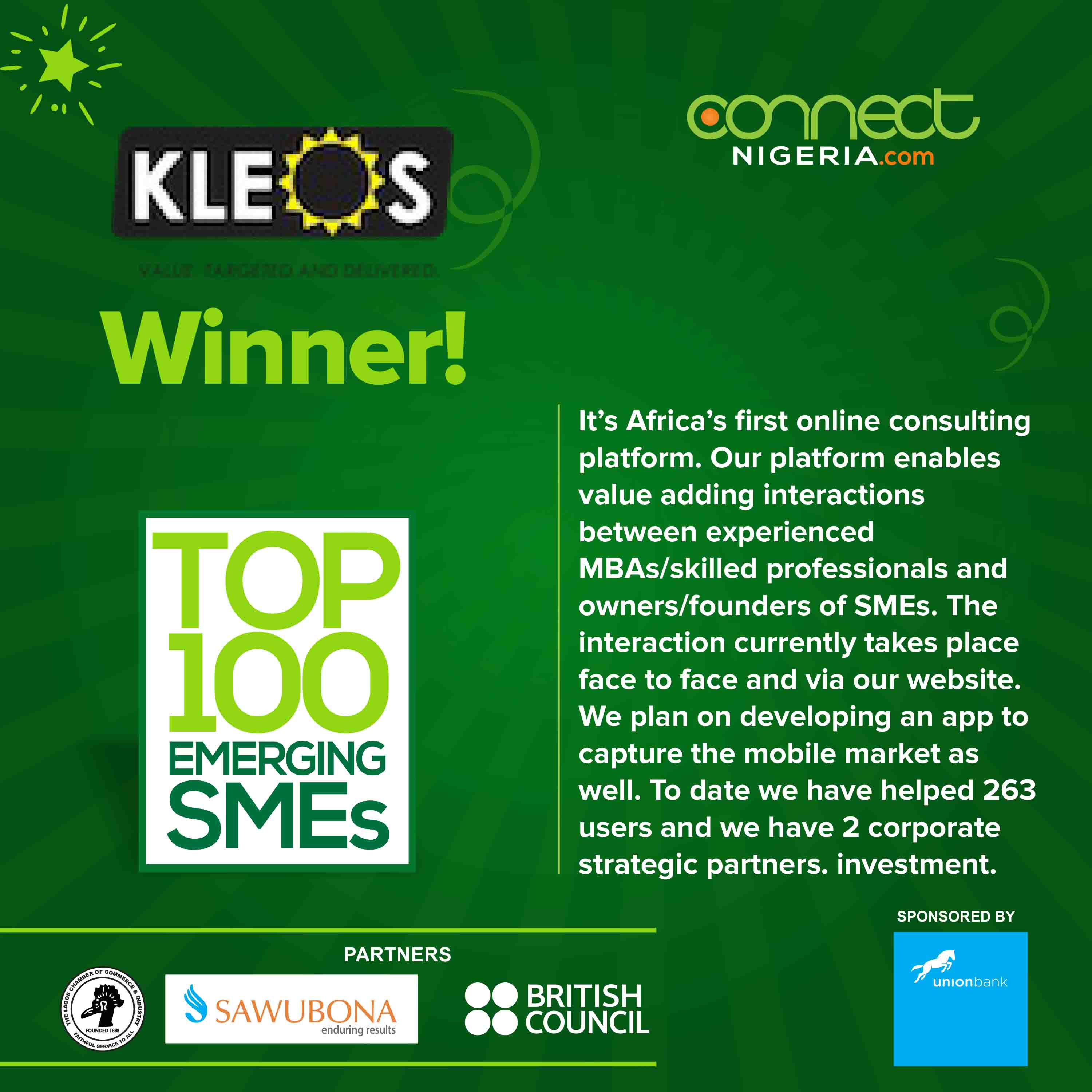 From Doer to Thinker
Through my work with the New York-based Centre for Enterprise and the London-based Grow Movement, I advised hundreds of entrepreneurs across the world.
Through this blog, my mission is to give you the clarity, courage, and commitment you need to succeed in managing your enterprise. From practical tools and templates, to strategies and step-by-step guidance, to an intentional path for starting and growing your business, my goal is to empower you to be the best business leader you can be.
Work With Us
While the content on my blog is totally free, I also offer a number of products and services at my Store and my Work with Us sections.
Subscribe to my Blog
In order to make sure you don't miss my newest blog posts, why not subscribe to my blog? It's fast, easy, and you can unsubscribe at any time. (Click here to find out more)
Yes, you can succeed in entrepreneurship. All it takes is the intention and a mentor to guide you. If you'll provide the first, I'll provide the second. Let's get started.