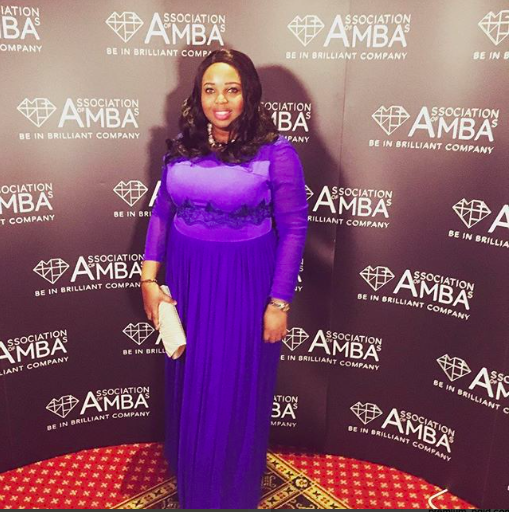 Ode to Excellence
When I was 16, I recall flipping through the pages of an old edition of the Harvard Business Reviewwhile waiting for my mother in her boutique in the suburbs of Lagos, the commercial capital of Nigeria. As I flipped through, the picture of a man standing triumphantly at the peak of a huge mountain caught my eye. It was an advertisement by Ernst & Young congratulating the winners of the 1989 Nobel Prize.
The picture gave me food for thought. What would it take to win international acclaim? To be honored as one of the best in your field? To be a world-class professional? And could someone, from the world's poorest continent, ever have that chance?
Arisotle once said ''The fruits of education are sweet, but its roots are bitter.'' And because its roots are bitter, it takes courage to chew on them and swallow them and own them.
I reminded myself of the need for courage when I moved halfway across the country as a teenager to study Accounting and persevered in my studies until I graduated as the Best Student in my Department with a First Class degree.
I reminded myself of the need for courage as I spoke my truth and shared my knowledge in Accenture and was selected out of 250,000 employees worldwide to win the Addo Agnotio award.
I reminded myself of the need for courage when I invested my life savings into my MBA at Lagos Business School (LBS), because I believed that an investment in knowledge pays the greatest dividends.
And after two years of arduous work and dedicated study, my investment reaped some unexpected rewards. The Lagos Business School nominated me to represent the school at the prestigious AMBA Student of the Year Award competition.
The AMBA Student of the Year Award
The award, sponsored by the Wall Street Journal, aims at recognizing the highest-performing MBAs who have distinguished themselves in leadership, social impact and intellectual achievement.
You could imagine my excitement two months after the nomination when I received an email from AMBA notifying me that I had been shortlisted out of over two hundred and fifty (250) other nominees and I had reached the finals of the competition, alongside five other amazing candidates!
Following a telephone interview on December 8, I was invited to London for the Gala and Award Dinner. I wouldn't be going alone, however. Also invited was the Dean of Lagos Business School, Dr. Enase Okonedo, as well as my good friend, Emmanuel Okosun, who was a finalist for the MBA Entrepreneurial Venture Award, for his company, Versecom.
With the exception of IE Business School, LBS was the only school that had two candidates reaching the finals of these prestigious awards. Needless to say, everyone was very excited that the school had achieved this feat barely three months after becoming the first school in West Africa to clinch the coveted AMBA accreditation.
Hence, it was with a heart full of gratitude that I boarded the KLM flight that took me to London via Amsterdam on 31stJanuary, 2018.
I spent the first few days with Ibukun, an old friend whom I had known in my childhood days in Chrisland School, Opebi. She works as a civil servant for the British Government and was a charming hostess all through my stay.
The Gala dinner was slated to hold at One Great George Street, in an exclusive area of Westminster, close to Buckingham Palace. The historic building also serves as the headquarters of the Institute of Engineers.
Upon arrival, I met Juan Victor Fajardo from IESA. Juan was also a finalist for the Student of the Year Award and he had traveled all the way from Venezuela. He was accompanied by his cousin, Sophia, a Linguistics and Communications major from Milan, Italy.
I also met Aparna Shrivastava who had clinched an AMBA scholarship to study for an MBA from the prestigious Said Business School, Oxford University. I learned from her that Oxford University is the world's oldest university – more than 800 years old.
We were soon joined by Emmanuel Okosun, my fellow LBS alumni, who had been nominated for the Entrepreneurial Venture of the Year Awards.
We also caught up with Dr. Enase Okonedo, who looked elegant in a cream stole and navy dinner gown.
After the drinks reception, we were led to the Churchill War Room, where we were served our starter and main course.
We were then treated to light-hearted speeches by the incoming and outgoing Chairmen of AMBA and the compere for the evening.
Soon after, the moment we had been waiting for arrived – the awards. Alas, neither Emmanuel nor I took home the winner's trophy but we were nevertheless commended for our achievements.
We recorded a short video afterwards, together with the Dean, Dr. Okonedo.
All in all, the evening was an inspiring celebration of excellence in business education and we were honored to have gotten so far in the competition.
Appreciation
In the words of Isaac Newton, ''If I have seen further than others, it's because I have stood on the shoulders of giants.''
Therefore, I would like to recognize all the incredible men and women who've inspired me, motivated me, and encouraged me in my journey to this stage.
My father, a senior bank executive who took me to his office when I was just seven years old and opened my eyes to the possibilities a career in business could offer.
My mother, a dedicated teacher, who instilled in me a lifelong love of learning.
Indeed, all my teachers, who have ignited in me a passion for knowledge, in particular, the Dean of Lagos Business School, Dr. Enase Okonedo.
My former colleagues at Accenture for working side-by-side with me as I developed into the professional I am today.
My classmates at Lagos Business School and my consulting clients for giving me the opportunity to share my knowledge with them and learn first-hand what it means to be a servant leader.
I'd like to thank especially the Association of MBAs (AMBA) for its noble work in promoting the value of the MBA. In today's world of instant gratification and quick fixes, some question the wisdom of dedicating two years and a small fortune to acquire an MBA. However, we recognize that these times also present an unparalleled opportunity for the business profession and the MBA in particular to contribute to social transformation and thus be a force for good, and not merely a force for profit.
It was this insight that ignited my passion for entrepreneurship, which I see as an opportunity for millions of poverty-stricken Africans to escape the shackles of deprivation and live a dignified life. This led me to start my business, Kleos Africa, during my MBA to support women entrepreneurs in Africa. It also led me to my current  role as the Program Manager for the African Women Entrepreneurship Cooperative, an initiative of the New-York based research centre, the Centre for Global Enterprise.
To my fellow African women entrepreneurs, I want to say that courage is one of the most powerful tools we have in our arsenal as business women and entrepreneurs. However, because courage without knowledge is a runaway horse, it's especially important to avail ourselves of the opportunities for business education which the 21st century provides us.
So I want to make an addition to that quotation that inspired me so long ago ''What does it take to be the best in the world?'' My answer is courage, guided by knowledge. And it is my fervent hope that that as African women today lead the world in entrepreneurship, our efforts will also contribute to a better continent and a better world.