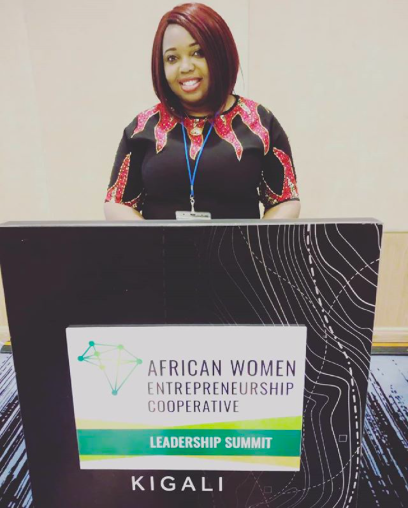 My AWEC (African Women Entrepreneurship Cooperative)journey started during my days as an Executive MBA student at Lagos Business School. I was fortunate to have been selected as one of the 50 pioneer students of the African Platform course offered by the Centre for Global Enterprise (CGE) – a micro-course which changed the trajectory of my career and enabled me to start Africa's first online consulting platform. Details of my interview as a CGE Global Scholar can be found here
Being a big believer in the power of education to transform lives, I was thrilled to be a part of the team that conceptualized and executed AWEC. AWEC is a one-of-a-kind cooperative of women from all over Africa who are empowered, instructed and mentored in the art and science of entrepreneurship. The program kicked off in April 2018 and after 5 months of intense learning experiences, we converged in Kigali, Rwanda for a 2-day Leadership Summit.
The Lagos contingent touched down in Kigali at 9:30pm on Saturday evening. We were instantly charmed by the beautiful airport and charming topography. After checking out from the airport, we made our way to the event venue – the elegant Kigali Marriott (Why don't we have a Lagos Marriott?! 🙂)
Sunday morning was spent at St. Michael's Cathedral while Sunday afternoon was spent shooting a video to promote the Summit. In the evening, we began to welcome the 150 women who had traveled from all over the world to attend the summit. After 5 months of collaborating from a distance, it was a sheer delight to meet everyone "face-to-face". It was particularly inspiring to meet Sam Palmisano, the former Chairman/CEO of IBM and the Chairman of the Centre for Global Enterprise, the parent company that had given rise to AWEC.
Day 1 of the Summit was filled with a flurry of activity. The CEO of the Rwanda Development Board, Honorable Clare Akamazie kicked off the session with a keynote address. Among other things, she shared that the Rwandan Parliament had an amazing 62% female composition and 6 out of its 14 banks had female CEOs. Clearly, the rest of Africa can borrow a leaf from their feminist manifesto!
The day continued with participant interviews as well as a leadership panel comprising renowned technology entrepreneur Rebecca Enonchong, my former Accenture colleague (now a senior business leader at Google), Jola Aderemi-Makinde, former supermodel Anne Getaneh and Diane Saynigoza of the Rwandan Development Board. The discussions were insightful and entertaining as each panelist shared her nuggets of wisdom. The leadership dialogue was succeeded by an invigorating speed networking session led by the effervescent Maame Yelbert-Sai.
After lunch, we had an enlightening session on "Investing in Entrepreneurship" anchored by Sam Palmisano, CGE Chairman and the award-winning venture capitalist and Forbes billionaire, Jim Breyer. The day concluded with eye-opening learning labs, one of which was led by my wonderful professor and LBS faculty member, Dr. Yetunde Anibaba. We gleaned insights about leadership through her expert facilitation and team activities such as the famous Marshmallow Challenge.
"All work and no play makes Jack a dull boy" – so after a day of intellectual stimulation, we were only too eager to let our hair down in the Kilimanjaro Ballroom at dinner. We posed for pictures with friends and distinguished guests, such as Elena Potpodorova, the former Bulgarian Ambassador to the United States.
This was followed by an electrifying performance by Inganzo Ngari, a Rwandan cultural dance troupe. The day ended with dinner, dancing, karaokeand socializing.
Day 2 was off to a refreshing start as we enjoyed breakfast at the poolside.
The learning labs continued, with the participants gaining fresh insights into their leadership styles. Key takeaways from the session were:
Teams perform best when they have a strategic direction, and it's the job of the leader to set the strategic direction.
The way you respond to people is the way they respond to you; if you are autocratic over the long-term, you will deflate your people.
Democratic leadership doesn't mean laissez-faire; it means you ask questions and you are open to other perspectives.
Essential elements for leadership are strategy, planning, patience, determination and coordination.
Leaders are not born, they are made. You have to learn leadership, the same way you need to learn finance, operations and accounting.
The summit came to an end with a rousing keynote address by the inspiring Dr. Victoria Kisymobe. Victoria's social enterprise, SELFINA, has empowered 27,000 women in Tanzania and disbursed over 17 million USD to rural women, thus earning her international recognition from the World Economic Forum and Hilary Clinton. Her tale of starting her business from scratch and growing from owning a single cow to controlling a transformational business elicited a standing ovation from the audience.
I'd like to end with a few words from the trailblazing COO of Facebook, Sheryl Sandberg:
"We need women at all levels, including the top, to change the dynamic, reshape the conversation, to make sure women's voices are heard and heeded, not overlooked and ignored."
And now, thanks to AWEC, the voice of the African woman entrepreneur is being heard and heeded.